The book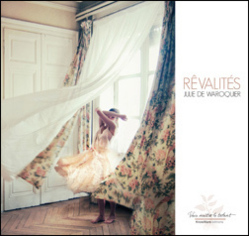 Extract from the outside back cover:
"I see cracks, even holes, gaping. I meet faceless silhouettes. I face reflectionless mirrors showing what I am. Deep down, I know that I don't belong here. There are pictures in my head and nothing but words in the world."
Between dreams and rivalries, Julie de Waroquier creates pictures which look like they escaped from imagination, and which disturb the categories of the material world. The better to get back to our world however, with our eyes fed by unusual yet familiar visions. Thus she strives to explore the poetic value of the unconscious: each picture is to be seen as the rapture of a dream that would come true and that would be caught by the camera. She questions the world by showing what our society denies, everything that belongs to fiction, poetry and dreams, and that is part and parcel of our reality. With her pictures, she shows the limits of the post-modern pessimism, reminding us the value and the depth of the human being. That is why, through symbolism, she explores the invisible world which resides inside human minds and hearts. Fears, desires, and passions. Her approach is simply poetic; it raises questions about the world and the man who inhabits it: she's looking for Meaning where our society wants us to see nonsense or vacuum.
63 photographs • 100 pages • Size: 27 x 25 cm
Languages: texts written in French and English
Printed in France
ORDER THAT BOOK
You will receive it within a few days
Simple edition:
33 €
CLICK HERE TO ORDER THE SIMPLE EDITION
Limited edition:
signed and numbered book, two 19x19 cm prints, all presented in a beautiful case.
Limited to 200 copies. 60 €
CLICK HERE TO ORDER THE LIMITED EDITION
NO MORE LEFT
RELEASE: NOVEMBER 14th 2012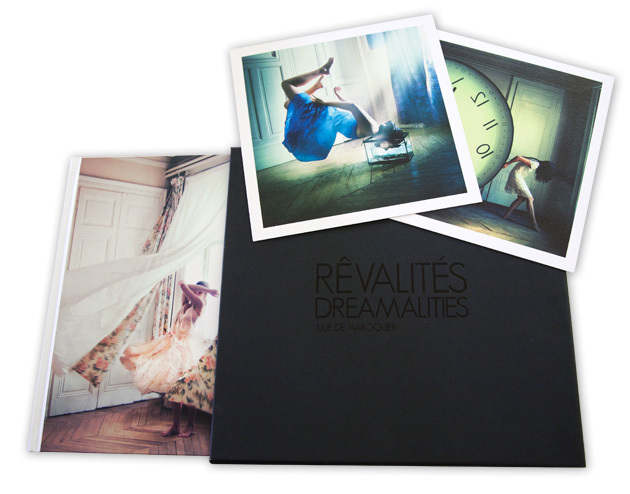 The limited edition includes the signed and numbered book (edition limited to 200 copies), two additional prints, all in a beautiful case.
Some extracts
The photographer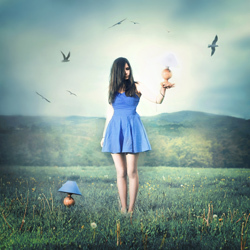 Julie de Waroquier is a French self-taught photographer who started photography in 2008. Her talent quickly enabled her to win numerous awards in France and abroad. In 2010, she won the "Correspondance Visuelle" project, which was organized by Compétence Photo magazine and presented as a preview at the Salon de la Photo, and in 2012, she distinguished herself by winning the International Emergent Artist Award and by being awarded a silver medal in the Prix de la Photographie de Paris. The same year, her photographs were exhibited at the Rencontres d'Arles. Julie de Waroquier is represented in France by several art galleries, and she also participates in many French and international art fairs and events.
Julie de Waroquier's works were part of several exhibitions organized by Compétence Photo magazine, published by KnowWare editions.
2012 – Exhibition-sale at the Palladion Art Gallery, in Toulouse
2011 – Exhibition "Chimeras" at the Salon de la Photo 2011
2010 – Exhibition at the Salon de la Photo 2010
What they think about the author
"A world of a unique transparence, light, pleasant, welcoming and sensitive; a series of timeless pictures, between nostalgia and dream, which call for happiness. Each square is like a little charming tale in which one wants to huddle, to stay, to get protected because the time has stopped, because the light is there like a caress and won't leave, so that there is no reason to look and find elsewhere a world that will never have such exquisite colors. A call for contemplation, an invitation to leave a kind of rationality in order to reach and enjoy the Impossible."
Christian Caujolle, founder of Agence VU
"Julie de Waroquier created quite a surprising dreamy work. She uses a very special light, quite transparent and extremely light. We see this young woman that evolves in imaginary landscapes which are inner and external landscapes at the same time, bucolic landscapes. We feel like we evolve in a kind of cloudy dream, light and ethereal. This is a work that relies a lot on this kind of transparency of pictures."
François Hébel, artistic director of the Rencontres d'Arles