My name is Hector, Bones, Maus, Peggy, Prospero, Chara, Prince. I let you leave me alone in this car, without begging or yelping, but don't believe I agreed with your choice. And if I stay there, calm, quiet, with worried eyes but always alert, it is because I only have one wish: I want you to come back. With "The Silence of Dogs in Cars", the Londoner photographer
Martin Usborne
evokes a painful child memory, the day when his parents let him in the car while they went to the supermarket. "I was wondering if someone was ever going to come back. It sounds silly today, but in a child's mind, being left alone forever is a possible situation", he confesses. He shares this very feeling through his series he created with dogs. Because during the photo-shoots –the series is composed of no less than forty-one shots- Martin Usborne didn't catch one attitude, but numerous behaviors, sometimes surprising. And that is precisely what moves us here, that while we expect each scene to follow the same storyline, we are finally always caught in a new story, where silence and wait are differently experienced and shared through a window by the main characters. The overall mood of the pictures is dark on purpose, the better to invite us to consider again our attitude toward indifference.
The series
The Silence of Dogs in Cars
is exhibited at
Little Black Gallery
in London until 27 April.
Martin Usborne
| England | The Developer
#32
|
en français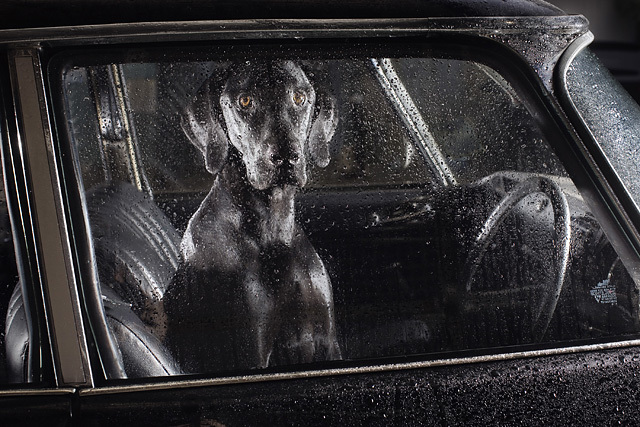 © Martin Usborne Studio - All rights reserved